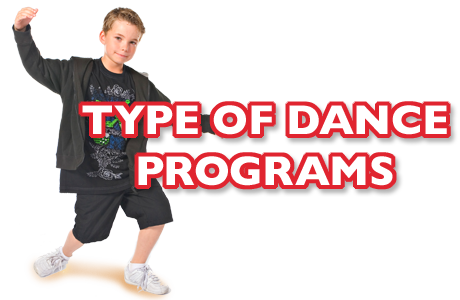 At Talent Co. we take great pride in our dance programs, designed to instill a love of dance in an environment that promotes fun, fitness and learning. Our instructors have been specially chosen not only for their dance qualifications, but also for their caring and patient approach to teaching.
Talent Co. offers a variety of recreational and competitive dance programs in tap, jazz, hip hop, lyrical, contemporary, musical theatre, acro, tumbling and ballet for children ages 2+, as well as specialised adult, toddler and boys only dance programs.
Dance Steps
Ballet is the core foundation of all other dance forms. It is a classical style of expressive dancing based on precise conventional steps with gestures and movements of grace and fluidity. This style involves a great deal of technique and discipline. We offer ballet classes for all ages and levels. Students are taught proper body alignment and technique. Barre and center floor work are combined with choreography combinations to teach musicality, rhythm, coordination, and flexibility. As dancers become more skilled in their ballet technique they have the option of expanding their training to include Pointe work which is defined as dancing on the tips on toes, in specially-designed Pointe shoes.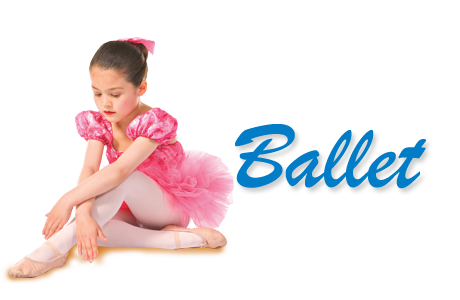 Come join Flippy the fox, as we travel around the world and stop off at amazing places like Europe, Africa, China and more. Toddlers will love working on gross motor skills and school readiness alongside safe tumbling skills in a fun, nurturing and educational environment. TumbleTown helps kids step out of their comfort zone and go on an adventure like no other. Start your engines and come join Flippy the fox and watch your kids grow, learn and have fun!
Learn the latest moves to all your chart favourites. This class will teach the basic fundamentals of ballet, jazz, hip hop and the moves from music videos, including kicks turns and jumps. Emphasis is placed on rhythm, coordination and enjoyment. You will get all of this plus a great workout. This upbeat class will help your child to find their inner love for movement. We offer jazz classes for all ages and levels. Jazz dancing is a combination of many dance styles including commercial, character and broadway. Dancers will learn both the classic jazz style as well as jazz technique. Classes are offered for beginners, advanced and elite students.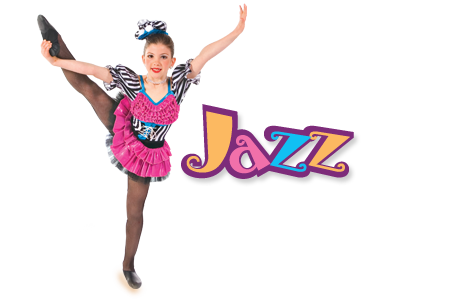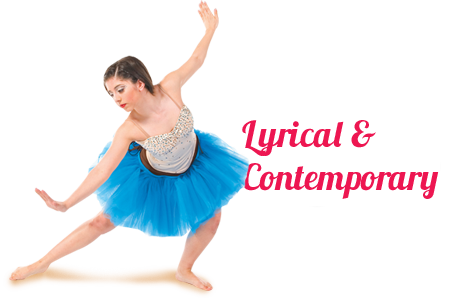 Lyrical Dance combines the rebellious style of modern dance with the grace and beauty of ballet. The movement and intensity of this class will have you all over the dance floor- engaging your every body part in radical expression that creates beautiful shapes, long lines, and powerful motion. Lyrical is every reason why you should dance!
45 minute classes using a progressive, graded syllabus to achieve mastery of traditional tap steps and rhythms. Tap training begins at the barre, making introduction and mastery of new steps easier for the students. Barre work is followed by center work and across the floor movements, both incorporating various combinations of tap steps and rhythmic patterns. These combinations and patterns become longer and more complex as the students' tap skills grow. Various musical styles are introduced to broaden musical vocabulary and teach different time signatures and rhythms.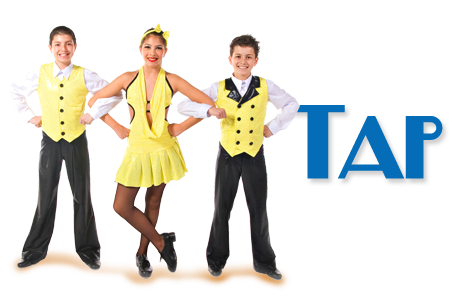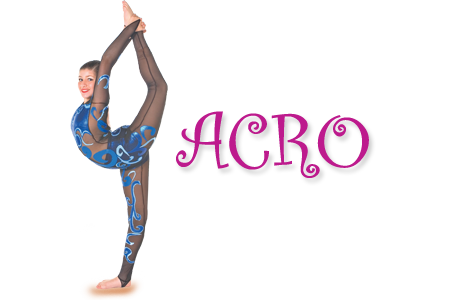 National Champion Studio in Acrobatics!
Acrobatics, or 'acro', is a dance style that focuses on balances, tumbling and movements that show off flexibility. Students begin each class with a floor warm-up that includes strengthening and flexibility movements specifically geared to acrobatics. Each student progresses at his or her own speed, using a syllabus that emphasizes safety in execution and mastery of a movement before progressing to the next level of difficulty. Double/partner stunt work will be introduced at the intermediate level. At the advanced level, the use of props such as ropes, sticks, and hoops; and equipment such as boxes, trampolines and stairs, will be introduced. The acrobatic skills taught are compatible with ballet. You will not see the hyper-extended lower back common to gymnastics; nor will a child be pushed beyond his or her body's physiological development and psychological readiness.
Tumbling
Tumbling is a form of gymnastics performed without props or equipment. Also referred to as floor gymnastics, common moves performed in tumbling include backflips, side aerials, front aerials, layouts. This is a great class to master the 'big' acrobatic tricks. No choreography or performances in this class.
Aerial Skills (TISSU)
Once limited to an elite few, now Talent Co. brings the amazing art form of aerial silk dancing to you! We focus on making aerial fabrics safe and accessible for everyone. Learn how to create breath-taking performances in the air. Our program will build upper-body and core strength, increase range of motion and flexibility, challenge your fears and develop your creativity.
Aerial Silks is when a length of material rigged from the ceiling as seen famously in Cirque Du Soleil shows, giving you a tool to climb, create figures, perform tricks and stunts and generally have a play! The variety of moves, drops, wraps, twists and turns are practically endless and create an ever intriguing challenge!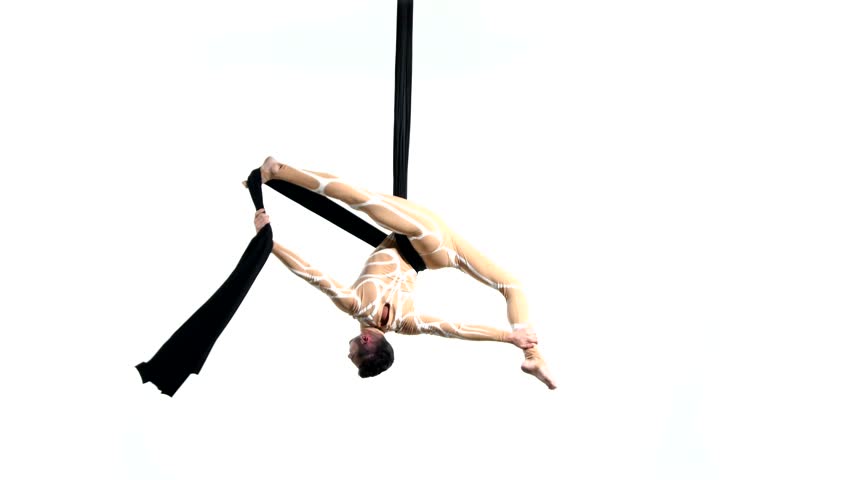 The Aerial program is great for students of all levels ranging from complete beginner to professional aerialist. Our classes are designed to fit your unique goals, whether you are looking for an exciting new work-out, a fun way to move your body, or a pre-professional training program. We have developed a proven system that will take you from absolute beginner to accomplished aerialist. Watch how your body, mind, and spirit transform when your feet leave the ground!
A fun, popular, and energetic, street dance which combines the Hip-Hop modes of popping, locking, stepping, into choreographed routines, which are featured in many music videos today. Groove to the beats of the latest songs as you warm-up and learn an exciting, funky dance routine. All movement and music will be age appropriate.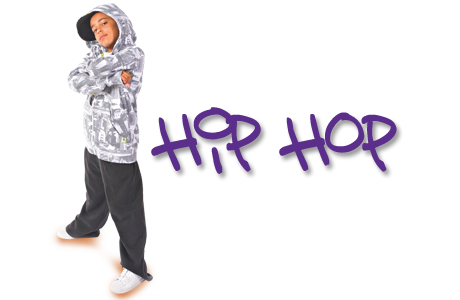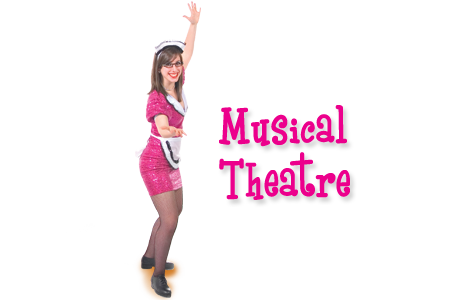 For kids who love to sing, dance and act! Our Musical Theatre / Glee classes work with traditional Broadway musical repertoire, working throughout the year on mini productions which combine singing, dancing and acting, a great class to boost performance confidence!
LIL' DANCERS - JAZZ, BALLET, KINDY GYM (AGE 2-5)
A child's first steps in dance are the most important and Talent Co. has developed one of the most extensive pre-school dance programs in Perth. We offer 7 Lil'Dancer (Jazz, Ballet & Kindy Gym) classes per week all 'pay as you attend'.
Our Lil'Dancer classes promote confidence, creativity and physical health. Students are encouraged to develop a love for learning through dance, music and imaginative play. Exercises and activities are designed keeping in mind the physical and cognitive ability of children this age. The curriculum objective is to challenge whilst never overwhelming the individual child.
Our Lil'Dancer students benefit from learning correct dance technique as well as team work and correct behaviour in a group setting. For many students, dance classes may be one of their first experiences in a social, learning environment. Our teachers are handpicked for their rapport and their communication skills and they are attune to the needs of our students.
The beauty of Lil'Dancer classes @ Talent Co. is that parents can choose the level of commitment! You can have the ease of attending class each week with no pressure to purchase uniforms or participate in concerts. Or you can be involved in competitions and performances. Choose the path that is catered for you and your tiny dancer.
WHY CHOOSE TALENT CO. FOR MY Lil'DANCER?
Apart from the fabulous programs we have in place for the pre-school age level. Talent Co. is a thriving studio for toddlers and teens and everything in between. We have recreational students of all ages as well as Elite students who hold National Titles. Our Lil'Dancers can continue their journey of dance in a school that can nurture them every step of the way.
Please note our classes are in incredibly high demand and we generally are fully booked for Term 1 by 1st January, wait lists will be available for all classes.
Tinies Combo

A class suitable for dancers ages 3.5-5. Our goal is to make sure that each child is nurtured in their natural creativity in a fun and loving atmosphere. The combo class provides a strong foundation in the fundamentals of jazz, ballet and tap. This class will spend portions of the time working on two or more different styles, giving the children a fantastic base and exposure to different types of dance. We have found that this "combination" technique helps to keep the kids excited, interested, and focused for the entire 45 minute period.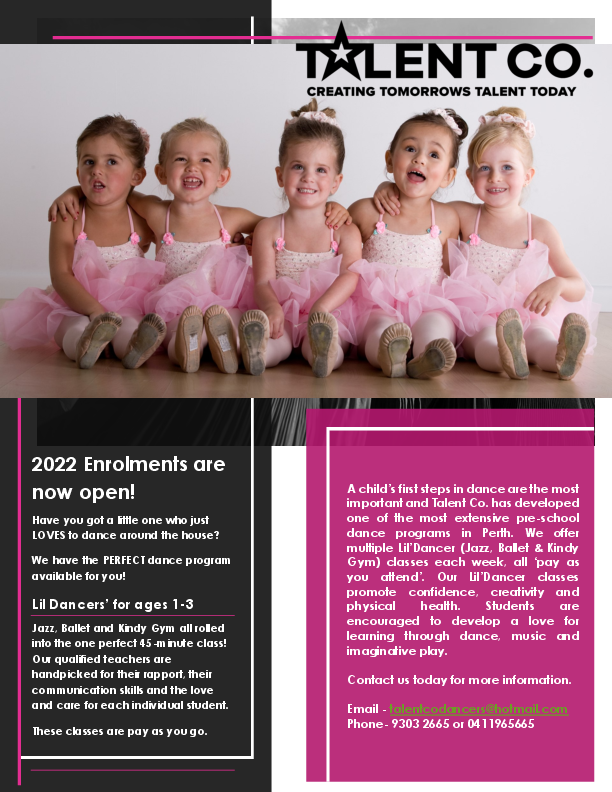 Princess Ballerina
For every little girl that wants to be a ballerina or fairy!
Our Ballet classes for preschoolers are simply magical. If you are looking for something new for your children aged 2, 3, or 4 then these dance classes are for you.
The Princess Ballerina dance classes is a creative program that provides a magical experience for your little one. Using a variety of classical music, nursery rhymes and quite a few familiar fairy songs, the preschoolers amongst many things will be introduced to ballet; they will twirl, point, run on their tippy toes and simply twinkle like a star.
Specifically designed for 2 to 5 year old kids, the ballet classes focus on creativity, fun and enjoyment. Students this age respond best to less formal learning environments and by leading and engaging the preschoolers in dance classes that are creative through different activities, they absorb the foundations of ballet technique without even knowing they are actually doing it.
These unique ballet classes involve different term themes that continue to develop the students abilities and extend their imaginations. With a few structured dances, improvisation and the use of dance props including wands, tiaras and all things beautiful, these little ones are taken into the wonderful world of ballerinas and fairies.
Using a tried and true 'follow the leader' approach combined with many opportunities for the individual students to use their imagination and explore movement, these 45 minute classes incorporate improvisation, mime, creativity and help to develop co-ordination, balance, spatial awareness and a love for music.
EXAMINATION CLASSES
Talent Co. is a registered school with the Commonwealth Society of Teachers of Dancing (COMDANCE or CSTD), Australian Dance Vision (ADV), Glenn Wood Tap and The Australian Acrobatic Dance Association; the societies are authoritive examining bodies whose high standards are internationally respected. These exam classes are for the students who wish to further their dancing with assessment and examination feedback. Exams are held mid-end year, at which time an examiner from the societies will come in and examine our students. Each student will be issued a report and a grade, and then progress the following year onto the next examination level. Exams give students and teachers clear goals to work towards. No child can be over looked, or hidden up the back, or not worry about that step they can't get. With exams the teachers must ensure each student reaches the required standard. (All schools teaching this syllabus learn exactly the same work, like a school curriculum) only the top schools in Australasia teach this curriculum as it is extremely difficult to be accepted. We offer exams in Theatrical, Modern Jazz, Tap, Acrobatics and Classical Ballet. These examinations eventually lead students to a full teaching diploma.

COMPETITION TROUPE CLASSES
This is performance driven class tailored to the serious dancer who desires a more advanced environment and are willing to commit to more performances. Students in this class will start with advanced skills and technique and will explore their capabilities in a strict environment. The repertoire will include Classic Jazz as well Lyrical and acrobatic styles. Technique is reinforced to ensure quality to all shows, performances, or demonstrations. Placement in this class is by invitation only. Students must be also enrolled in Examination classes.
All troupes offer the opportunity to study dance at a more professional level and are geared for those who wish to take their dance education to the next step. Being a part of a competition team is an enriching, unforgettable experience!
Vocational Dance Certificates 1-IV in Dance
As you are aware the WACE requirements have now changed and it is required that students attain a minimum of a Certificate II to Graduate (for non ATAR students).
Talent Co. Dance & Entertainment in Wangara has met a strict set of certification processes and regulations in order to be part of an auspice agreement. National training qualifications are delivered through third party agreements with Australian Dance institute RTO 91600 to allow students to study courses that fall within the Australian Quality Training Framework.
By granting Certification, ADi is offering an assurance that the dance training offered by Talent Co is of the highest standard and is conducted by experienced and suitably qualified teachers in an environment where professional ethics and safe dance practices are a priority.
Currently, Talent Co. is the only dance studio in Western Australia to offer Certificates I-IV in Dance under the Auspice agreement. Our studio principal is also a national assessor of the certificates.
Talent Co. is offering Certificate I, II, III & IV in Dance : Course Code (CUA30113) to secondary school students in 2018. This part time course is offered as gap training to students who are currently studying dance outside of school. This means that through recognition of prior learning the students have already met the technical training required for the qualification. Students will be required to provide proof of competent technical training through successful syllabus examination certifications. This course in no way affects your current dance studio commitments or training and you are not required to take class or perform under our studio name.
The course is offered at Talent Co's state of the art training facilities in Wangara on Friday afternoons (4:00-6:00pm), although we are open to offer the training on other days to suit the schools timetable requirements (subject to suitable interest).

Student Teacher Training Program
At Talent Co. we are very excited to announce we are now a registered affiliate studio and member of the DanceStep program. Offered in partnership with studio teachers, DanceStep empowers students to take care of others and guides them to be leaders and role models. The program covers assistant teaching skills such as behaviour management, different learning needs and styles, Safe Dance Principles and Anatomy to name just a few. These concepts are broken down to be taught in a sequential and age appropriate way to children from ten or eleven years of age. Whether students are considering a career in dance teaching or otherwise, the DanceStep program is a great preparation for many aspects of life.

With the inclusion of DanceStep at Talent Co. our young dancers have a framework where they can contribute to the community in a positive way. Past students of the DanceStep program have experienced increased levels of confidence and have learnt patience, empathy, communication skills and how to take initiative in different situations. As affiliate members of the DanceStep program it is wonderful for us to be able to provide this opportunity for our dancers to flourish not only as young people, but to also watch them grow into competent and confident assistant teachers and student leaders.